POPEYES @ TERMINAL 3
Yesterday went to Changi Airport Terminal 3 for our dinner with Hubby, Karen, Royce, Vincent, Geling & Natasha.. (Sorry no photographs taken)We went to have our dinner @ Popeyes Chicken And Biscuits' . Although I am working as a part time manager in KFC, I still love to eat fried stuffs. Be it KFC's chicken, DO & Me's chicken or Popeyes'S chicken, I will never give it a miss for FRIED CHICKEN. I am a loser to fried stuffs.. Tell me, who don't like fried stuffs...!!
As usual, the restaurant is packed with all sorts of people and we managed to find a place to accommodate the 6 of us with a child. Whenever I visited Popeye, I will make sure I'll make the following orders. Their Hot and spicy chicken, Cajun whipped potato, Coleslaw and the best of all Cajun fries. So hubby help me ordered a 3 pc meal which is supposed to come with 2 sides. And usually hubby will order additional fries for me. But when he came back with the order, I was like.. "Hmmm where the hell is my fries??!! Have u forgotten about it?".. "Out of stock wor" he said... Faintz.. My favourite stuff was not available.. Sob Sob..Guess have to come back another day for the food again..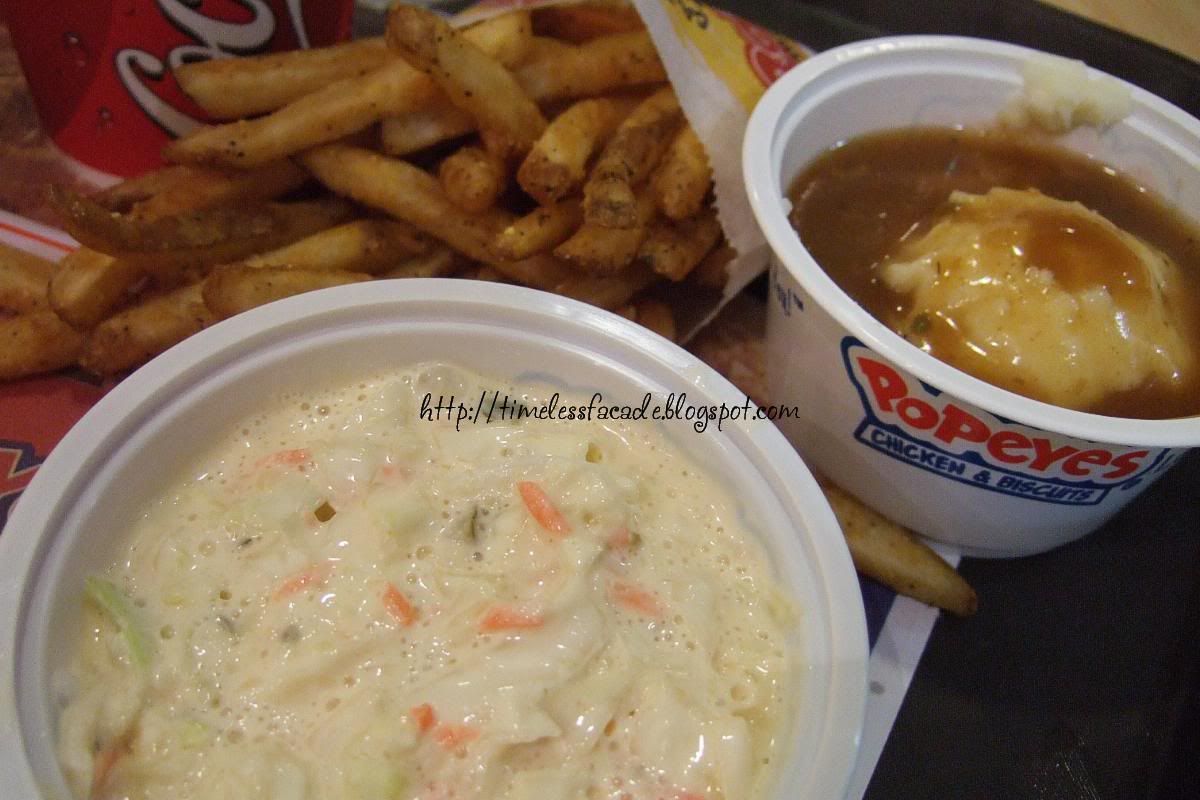 (Photos obtain from
Yebby Feizhu
)
Top left : Fries - tasted like curly fries in A&W but not as good as A&W.. For the fries you need to take it while its pipping hot.. If not, it will taste dry and tasteless.. 2 thumbs up!
Top right : Whipped potato - Creamy, but abit salty. One thing I like is that there is always small chunks in the potato.. Thumbs up!
Bottom left : Coleslaw - Yummy, I fall in love with their coleslaw, it's so tangy and chunky.. Abit sour and abit sweet.. Hard to describe my taste to it.. Thumbs up!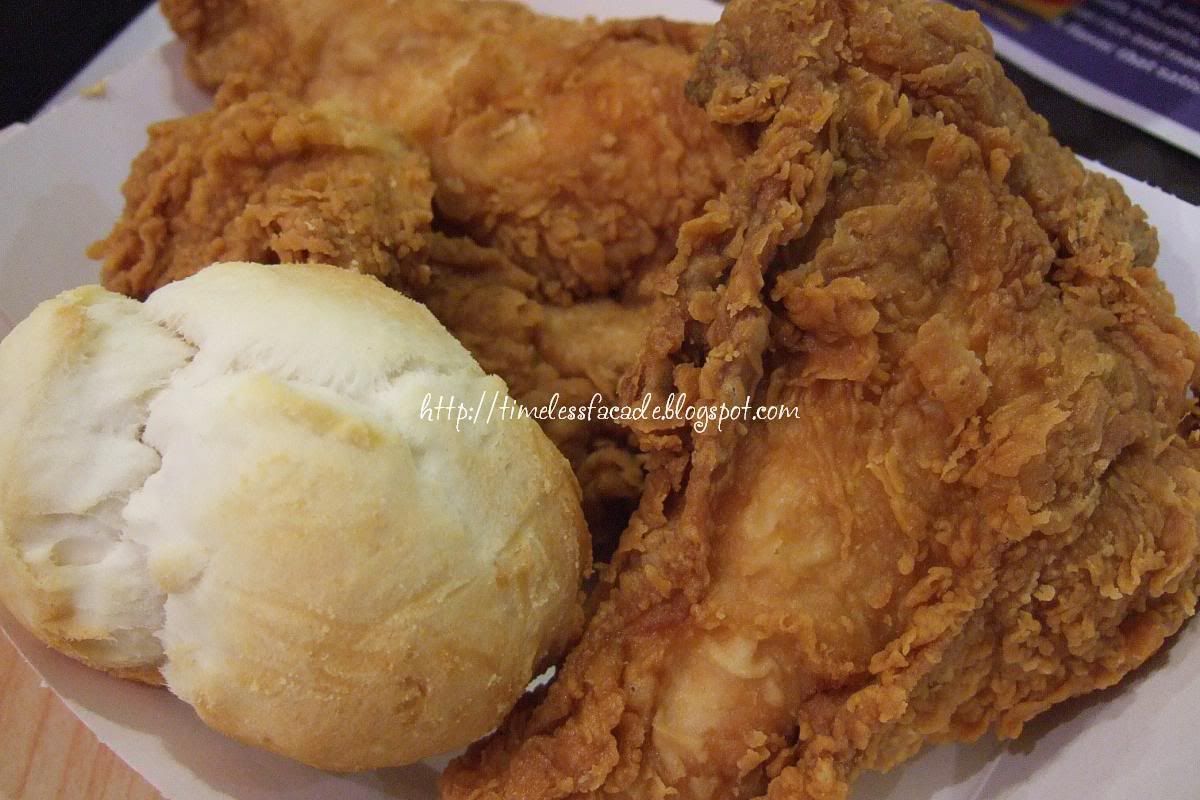 (Photos obtain from
Yebby Feizhu
)
Left : Biscuit - Lots of people said that it's nice to eat but to me... Duh.. I don't really like it. It's rather dry and tastless.. As if I was eating plain bread.. Bleah.. Thumbs down..
Right : Chicken - They have both crispy and original like KFC.. Hmmm If you ask me to compare the chicken, errr... The chicken for Popeye is crispy and not so oily. But it is dry if you took the ribs part as compare to KFC. KFC chicken will be more tender and not so dry.. Overall, Popeye chicken, thumbs up!
Do pop by Popeye Chicken And Biscuit if you happen to be around Changi Airport Terminal 3. The restaurant is located @ B1..