Day 3 In Korea
Yup yup photos for Day 3 in Korea photos are really. Lay back and enjoy it..

3rd Day Breakfast - Hotel Buffet Breakfast



Yummy yummy.. Must have a hearty breakfast for the day!



The fours enjoying the breakfast



Me & hubby in coach to Domestic Airport to Daegu



The exterior of Domestic Airport



We are so near to airplane



Vincent & Geling with the Airplane



Hubby & me with the Airplane



Royce with the Airplane



Karen with the Airplane



Bye Bye Jeju



Outside Pusan Domestic Airport



3rd Day 1st Destination - Persimmon Wine Tunnel (Daegu)



View of the Persimmon Trees



Everbody waiting to enter the tunnel



Railway of the Wine Tunnel



Worker plucking Persimmon for Wine



Posing with the Big Wine Bottle



Me wanted to pluck the Persimmon



Hubby turn to pluck the Persimmon



Hubby infront of the Tunnel



Our Persimmon Wine for tasting



Tour group tasting Persimmon wine with biscuit & cheese



Cheers! To be frank, the wine isn't nice..



Inside the Tunnel is wet & chilly



The Main Door of Wine Tunnel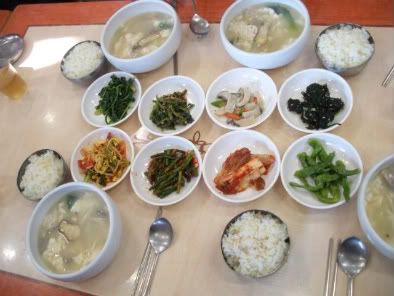 3rd Day Lunch - Toufu soup (This is very nice.. Its their handmade toufu)



2nd Destination - Spa Valley (Too bad it is under renovation so there goes our spa treatment)



3rd Destination - Dongseongro Street Shopping (The Hello Kitty Shop)



The shopping street of Dongseongro Steet



3rd Day Dinner - Charcoal Grilled Black Pig Meal



Yum Yumm



Helping to suck away the smoke



Vincent, Geling & Karen BBQing



Shopfront of BBQ dinner



Daegu 24hrs KFC.. So it means we are having supper again.

Daegu is not really an interesting place but it's also the first time I've been to Winery. It's such a pity that they did not show us how they brewed the Persimmon wine. Afterall, it is a holiday so I get to enjoy it..
4th day of Korea is coming up soon too.. Hang on tight.
Labels: Berlin's holiday, Korea