KOREA DAY 2
Alright its time to upload the photos for Korea Day 2

2nd Day early Morning with another Teddy Bear @ LotteWorld Hotel



Exterior of the Hotel



Our coach outside hotel



2nd day Breakfast side dish



Main course of the Breakfast - Abalone Porridge



1st Destination - Teddy Bear Museum



It's Teddy Bear Museum



Me & Hubby @ Teddy Bear Museum



Welcome Signboard with Bear on top



Woah.. So many Teddy Bear..



Show case of Teddy Bear Town



Show case of Teddy Bear Titanic



Me & the Biggest Teddy Bear



The Charlie Angels with Big Bear



Waiting to make phone call



Me & my Teddy Bear Boyfriend



Hubby & his Teddy Bear Vintage car



Hubby sitting on Big Black Teddy Bear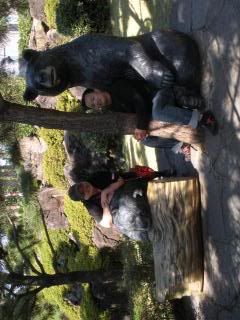 Me & Hubby with the Big Black Teddy Bears



Me attending Teddy Bear Family's Birthday Party



Me helping Papa Teddy Bear to Roast the Pig



Me helping Buddy Teddy Bear to fish



Wah! Polar Bear found in Korea



Me & hubby infront of Safari Showcase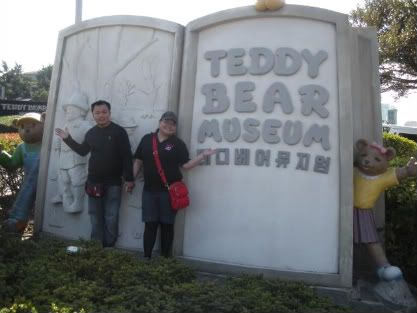 Me & hubby infront of the Big Teddy Bear Story Book



2nd Destination - Cheonjayeon Waterfall (The Fairy Bridge)



The Wishing Well in Cheongjayeon Waterfall



The so-called Waterfall in Cheongjayeon Waterfall



2nd day Lunch - Grilled Black pig Meat with the side dish



Grilled Black Pig Meat. It's Yummy! Trust me..



3rd Destination Songsan Sunrise Peak (Midhill View)



Seaside from midhill view



Everybody are tired of climbing Songsan Sunrise Peak (Half way up only)



Still long long way to the top of the Peak



Charlie Angels Surrender to the Peak



The Peak



4th Destination - Jeju HaenYeo Museum (Woman Divers) (Old time house of the Koreans)



Bedroom of the old house



Kitchen of the old house



Model of HaenYeos working



HaenYeos Worshipping the Sea God



Simple meal of HaenYeos



History of Rain coat



Model of village where HaenYeos stay



Models of HaenYeo gathering after diving for the seafoods



Model of what HaenYeo wear when they dive



Model of HaenYeos Diving



Model of HaenYeos Village school



Model of old HaenYeo's boat



2nd day Dinner - Black Pig Meat Steamboat



Dinner comes with stone rice



Me enjoying the steamboat



Vincent & Geling enjoying their dinner



Karen don't really like the dinner



Royce stoning after dinner



Our supper gathering in 2nd Hotel

Basically, the 2 days in Jeju our main course of meat is the black pig meat.. What they are famous of is their Honey and the black pig. Talking about black pig meat, they are so differnt from our normal pig. The meat are more tender and the fats of the meat are very "toi toi" unlike the normal pig, the fats tasted so oily.. I enjoy the stay @ Jeju and the place there is so sweet. If you have the chance, pls visit Jeju.
Labels: Berlin's holiday, Korea